---
Who can vote?
To vote in the Port Waikato by-election you needed to be enrolled in the Port Waikato electorate by Saturday 25 November 2023.
You could enrol to vote in Port Waikato if you were eligible to vote in New Zealand elections and had lived in the Port Waikato electorate for one month or more.
Are you eligible to enrol and vote?
If you lived in the Port Waikato area and you were on the Māori electoral roll for Hauraki-Waikato, you were not able to change rolls to vote in the by-election.
What is the Māori Electoral Option?
Your EasyVote pack
Voters who were enrolled in the Port Waikato electorate by Saturday 14 October were sent an EasyVote information pack in the mail. This pack included an EasyVote card and all the information you needed to vote.
EasyVote packs were delivered from Saturday 4 November, with delivery of all packs complete by Saturday 11 November.
When can you vote?
Overseas voting started on Wednesday 8 November and voting in New Zealand started on Monday 13 November. Voting closed at 7pm on election day, Saturday 25 November.
View the by-election timetable
About the electorate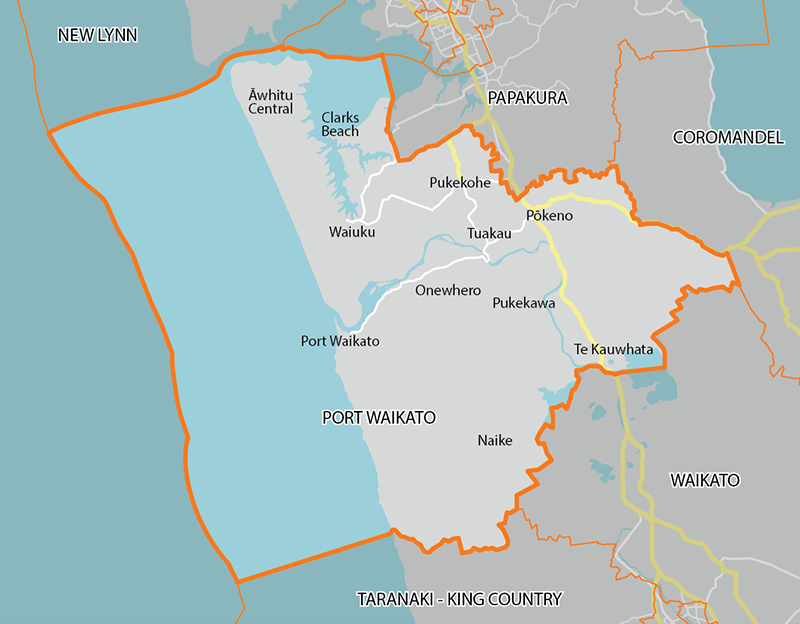 The Port Waikato electorate is south of the Manukau Harbour and includes Clarks Beach, Waiuku, Pukekohe, Pōkeno and Te Kauwhata in the south.
Contact the Electorate Manager